SBI Dividend Yield Fund - Click above video for details (Hindi)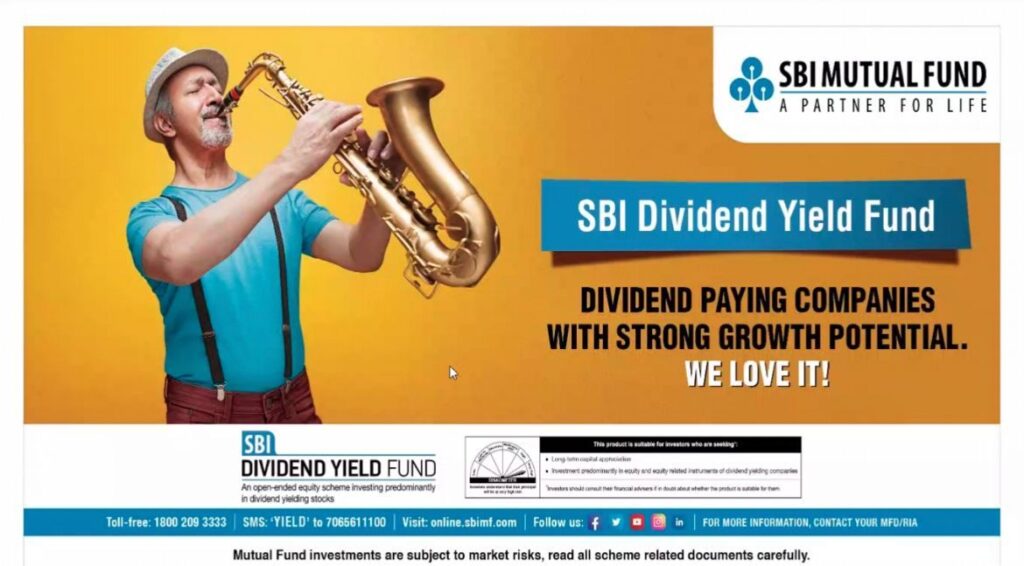 -NFO Alert- SBI Dividend Yield Fund, Opened on 20th February – Closes on 6th March 2023
Objective– To provide investors with opportunities for capital appreciation and/or dividend distribution by investing predominantly in a well-diversified portfolio of equity and equity related instruments of dividend yielding companies
Here is an opportunity to become an investor in Dividend Yielding Stocks
Some key features of the fund include:
1. Equity Income Strategy Fund – All Season Fund for investors.
2. Focus on identifying companies with Strong Business Model, Growth, Valuation, Management.
3. It would be Sector Agnostic & Market Agnostic Portfolio.
4. It would be diversified portfolio of over 30-40 stocks for conviction bets and alpha generation.
5. There are 3 steps for stock selection process:
A) Dividend yield
B) Dividend Growth
C) Free cash flow for business growth
6. Focus on matured stocks which give consistent dividend.
7. Bottom-up stock picking approach.
The minimum amount application for the NFO is Rs 5,000/– and it can be made in multiples of Re.1 thereafter.
Minimum SIP amount is Rs. 500/-
Fund Managers- Mr. Rohit Shimpi (16+ years' experience, B. Com, PGDBM (Finance), CFA)
Mr. Mohit Jain for overseas securities (5+ years' experience, BE, CFA
Mutual fund investments are subject to market risk, read all scheme related documents carefully
For further details or queries please contact us on 9819833006.
Click on the below link to create your account for free